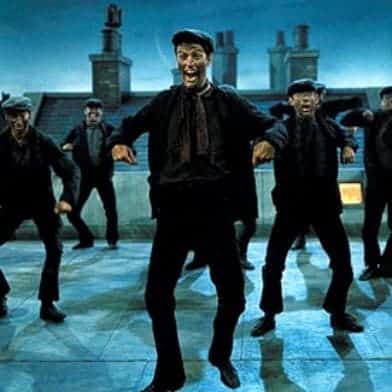 Does My Landlord Need To Clean My Chimney?
I live in a 15 unit building built in the 1950s. I've been in my apartment for two years.  Already the fireplace is unusable because my place fills with smoke when I attempt to have a fire. I have no idea when the landlord last cleaned the chimney.  She did not indicate that when I moved in.
Who is responsible for cleaning my chimney, me or my landlord?  If my landlord, how often are they expected/required to clean it? Is it interval based, e.g. every five years?  Or on an as-needed basis, e.g. my apartment fills with smoke?
Have you ever seen Mary Poppins, the answer to your first question is easy–Dick Van Dyke, of course. At least that's what your landlord will tell you.
While fireplaces aren't primary sources of heat, their maintenance, repair and inspections are the responsibility of the landlord. Think about it, if a landlord has been warned about a malfunctioning chimney and a subsequent chimney fire burns down half the neighborhood, who is going to be sued?
We might not think about chimney fires much in San Francisco, but according to an American Red Cross article written in 2009, fireplaces and chimneys were the number one source of home heating equipment fires.
All of the publications I consulted recommended annual chimney inspections. Most of them point out that cleaning intervals largely depend upon use.
This depends a lot on how much you use your fireplace or stove. The National Fire Protection Association says, "Chimneys, fireplaces, and vents shall be inspected at least once a year for soundness, freedom from deposits, and correct clearances. Cleaning, maintenance, and repairs shall be done if necessary."

The CSIA (Chimney Safety Institute of America) says that fireplaces should be cleaned when 1/8″ of sooty buildup is evident inside the chimney and flue system. If any glaze is appearing in the flue, cleaning should be done even if there is less than 1/8″ of build up. Any time an appreciable accumulation of soot and creosote occurs it can be enough to fuel a chimney fire that may damage the chimney and even spread to the roof and home. Furnace flue systems also require cleaning, so don't neglect regular cleaning of those venting systems.
If you are using the fireplace correctly and smoke is still billowing into your apartment, then it looks like a chimney cleaning is in order.
Certainly, you should inform your landlord about the problem. If she starts humming "Chim Chim Cheree" when you ask her to fix it, consider filing a substantial decrease in services petition at the Rent Board.
If you file a petition at the Rent Board you will have to establish that the loss of the fireplace is a substantial decrease in services. You will need to prove that the fireplace and its use has value. Here are are few things to discuss:
The fireplace in the unit is unique. It was one of the factors you considered when you rent the unit.

The landlord factored in the increased value of the fireplace to determine the initial rent.
The fireplace is a secondary heat source.
Cleaning the fireplace will alleviate a fire hazard.
You will need to be thorough. At first blush, the person who decides your case could conclude that the fireplace is a luxury that you don't really need. You must be prepared to argue why loss of use of the fireplace is more than simply losing something you didn't need in the first place.
If you need to file, take all of your evidence to the San Francisco Tenants Union to discuss your case with a counselor.