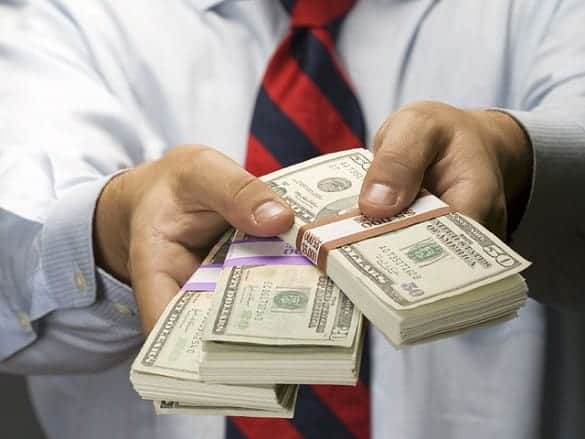 Tenant Buyouts: The Agreement
If you have negotiated a buyout agreement with your landlord, you have to get that agreement in writing. Any landlord who balks at this is going to screw you, end of story. If I was a landlord lawyer I'd say the same thing about a tenant. Unfortunately, in my experience, I find that tenants are more trusting.
Let's say that you have come to a general agreement that provides for the landlord paying you $30,000.00 to move. Your move-out date is July 1. Now it's time to get into the specifics.
Get half of your money up front in the agreement.
Most landlords and their attorneys understand that this is not an unreasonable request. I point out that my clients want to move as soon as they can and they usually need a good chunk of cash to accomplish that. After all it's not unusual anymore to have to put $5,000.00 or $6,000.00 down to to secure a new apartment, not to mention moving costs. Often landlords ask for the first and last month's rent with a security deposit equivalent to another month's rent. I would be wary of making a deal that provided for the whole payment to come after you move. There's just too much temptation for a landlord to find a pretext to refuse to pay you.
Make your move-out date on the first of the month rather that the last day of the month.
This is an obvious one. While I never recommend this, you have all night to tidy up if you need it. If your move-out date fall on a Friday or during a weekend and you are required to deliver the keys to the landlord's attorney, you want to make arrangements about "surrendering" the property with that in mind.
In one of our negotiations we settled on a vacate date with a time of midnight on that date. My clients were pushing the deadline and they were still cleaning the apartment when, you guessed it, the landlord pulls up and accuses them of breaching the agreement. They finished moving at 1 a.m. Needless to say, I had a discussion about the concept of "substantial performance" with the landlord's attorney the next day and they got paid.
Don't agree that the landlord will refund your security deposit "according to law."
Chances are you're not thrilled about moving and probably a little miffed at your landlord. You don't want to have to communicate with him again, 21 days after you move (if ever), to wrangle your security deposit. I like to get a clause that provides for the landlord to do a walk-through and refund the deposit with the final payment.
Add a clause that allows you to leave the unit in "broom clean" condition.
Here's the one we insist upon:  Tenant agrees that, upon vacating, they will remove all Tenant's personal property and other things from the premises, and otherwise leave the premises in broom clean condition. "Broom clean" shall be defined as follows: Free of all personal property, debris and garbage in all parts of the premises, common areas, sidewalks in front of the building and any storage areas in the building associated with the premises. The premises shall be swept with a broom. The definition of broom clean shall not include the scrubbing of walls ceilings, appliances, fixtures or carpet cleaning. The definition shall not include repair or maintenance of defective conditions, patching nail holes or painting.
Releases in the agreement should always be mutual.

Releases come in all shapes and sizes. Essentially they are comprised of lists of actions and people that you are releasing from any further liability based upon your relinquishment of your tenants rights. Here is an example of a release clause that is fairly succinct:  "Subject to the provisions of this Settlement Agreement, the Settling Parties forever release each other, their predecessors, officers, employees, members, agents, attorneys, successors, assigns, heirs and personal representatives, and partners from any and all claims, liens, demands, causes of action, obligations, damages, expenses and liabilities of any kind whatsoever, whether at this time suspected, known or unknown."
I like releases to be mutual like the example above. That way all the parties walk away with assurances that they cannot be sued later. While a tenant may not have as many reasons to sue if she got paid, it's still a good idea that she didn't sign away rights unilaterally.
Landlord move-out enforcement.
Some landlords' attorneys like top use a "Doe Complaint." It's a fairly cumbersome agreement in which that landlord actually files an unlawful detainer (eviction) lawsuit naming Jane Doe. The tenant agrees that the landlord can amend the complaint to add the tenant's real name if the tenant does not timely vacate. It's a draconian remedy, arguably unenforceable. Other landlords' lawyers use a "Stipulation of Judgment." You sign away all your rights to trial, etc. the landlord can use the document to go to court and get a judgment for possession against the tenant.
I am, surprisingly, not put off by most landlords buyout enforcement mechanisms.  I tell my clients, If there is the slightest chance you can't move out when you agree to do so, don't sign the agreement. Clearly if something happens to you that is unexpected like emergency hospitalization, you have defenses for non-performance. But I am not talking about waiting for that perfect $900 per month cottage in Pacific Heights.
Insist on an attorneys fees clause to a the prevailing party enforcing the agreement.
If you don't get your last payment you do not want to have to pay a lawyer to sue to enforce the agreement without a chance to get those fees reimbursed. Attorneys fees clauses are reciprocal by law. Make sure that you're in the right before you sue to enforce your agreement.
Here is an example:  "In the event any action or proceeding is brought to enforce the terms of this Settlement Agreement, the prevailing party shall recover his or her or its attorney fees and costs to enforce this Settlement Agreement from the other party."
There are many other nuances to buyout agreements. These are the basics. Even if you can negotiate everything for yourself, it's still a good idea to have a lawyer look over your final draft.