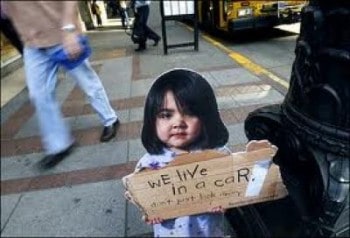 I Think We Have A Squatter In Our Garage
I have a question about a squatter that's living in our building. I've tried doing research online regarding squatters living in a building's common areas or garage, but haven't come up with much.
My two roommates and I live in a three-story apartment building in San Francisco (built in the early 1990s, so no rent control).  It has three units total – two flats, and a small, most likely illegal unit in the rear of the garage. 
Our garage is large enough for two cars to park side-by-side. 
While we are not on a lease right now (and have not been for four years), I've lived in the top flat for over six years, and a garage spot has always been reserved for our flat, as well as the flat on the second floor.  Other than that, the garage houses all of the building's electrical switches, the main water shut-off, washer and dryer for tenants' use, two water heaters (shared among the three units), and also a gas heating unit for the second-floor flat. 
Our problem is that there is a squatter living in our garage.  The squatter is a former tenant of the second-floor flat below ours, who must have gotten kicked out by her roommates.  She has an 8-year-old child with a man who still lives in the flat below us, and it seems that they share custody.  However, we suspect that the woman is homeless.  
Although she is no longer living in the second-floor flat, she retained her keys, or at least the key to enter the gate that allows access to the building.  There were a few days when she didn't have keys and was constantly ringing our doorbell (a.k.a. harassing us) in an attempt to gain entrance to the building. 
Her car remains in the garage, where it has been for the last 7+ years.  She sleeps in the car, but that isn't even the worst part.  One day about six or eight weeks ago, out of nowhere, all of her possessions appeared in garbage bags in the garage.  
To describe the disaster, it looks like she put all of her possessions in the room above the garage and the ceiling caved in.  It has quite literally turned our garage into a landfill.  There are clothes, food, food wrappers, garbage, and old appliances strewn everywhere, blocking walkways and making passage through the garage to the backyard difficult.  My roommate's parking space in the garage is often blocked by, or filled with, this junk. 
For instance, my roommate will leave for the day and come back in the evening, and the squatter will have moved junk into my roommate's parking space.  Our water main shutoff is blocked by garbage and appliances that are piled against the wall.  The squatter makes use of our washer and dryer whenever she feels like it (utilities that we are paying for, by the way).  Lord only knows where she uses the restroom, because her former roommates, the second-floor tenants, do not seem to allow her to enter their flat.   
The situation gets worse on a daily basis.  At first, we were sympathetic, as she apologized for the mess, saying that she was moving to another apartment, and everything would be out in a couple of weeks.  However, that doesn't seem to have happened. 
Last week, we called the property manager and told him what was going on.  He said he needed to think about it and would call us back.  The following day, I sent him a letter detailing everything I have mentioned here, complete with several photos of the possessions and garbage in the garage.  I suggested that he call me ASAP because something needs to be done about this situation promptly.  No reply yet.  As tenants, I don't believe we can legally do anything about this situation, and the landlord is the one who needs to formally evict the squatter.  Am I correct?  If he does not take any action, what can we do as tenants?
Strictly speaking, squatters do not need to be formally evicted, that is served with notice and sued in unlawful detainer. Squatters have no tenancy rights and can simply be ejected from a building by the police. You can call the police, but my years at the Homeless Advocacy Project make me queasy, even given your frustration, to suggest that course of action right off the bat.
It is the landlord's duty to deal with the squatter and you were correct informing the property manage in the manner you did. However, in this case, you're probably going to act more compassionately than the landlord. Rather than simply looking at this woman as a nuisance to be cleared away, I hope that you can see her as a human being who needs help. The question is what kind of help and what can you do to steer her in the right direction.
I think the first thing to do is to find out why the woman is no longer living in her apartment. Ask the downstairs neighbors what happened. Clearly, their perspective may be biased, but it will help you get an understanding of the woman's current dilemma. You can learn the circumstances of her "eviction." You can, perhaps, ascertain her mental state; find out if she is employed.
To me something smells about the circumstances in which baby-daddy kicked out the mother of his child, but clearly, you don't have any obligation to delve into that.
You don't mention if the child lives with his or her mother in the car. If that is true you'll need to act faster.
I would speak to the woman one more time to get a clearer understanding of her mental state and her plans or lack thereof. Does she get that she can't simply live in her car in the garage?
Suggest that she drop into the Homeless Advocacy Project, 1360 Mission Street Suite 201 (between 9th and 10th Streets), on a Tuesday between 1:30 p.m. and 4:00 p.m. for their new client drop-in clinic. They will evaluate her case based on a holistic assessment of her needs and either take her as a client or refer her to an agency who can help.
Let her know that she may qualify for shelter service for her and her child. She can contact Compass Community Services, Hamilton Family Center, or St. Joseph's Family Center.
If she refuses to try to get help, especially if she has her child in tow, then it's time to call the cops. Call the non-emergency number, (415) 553-0123, explain the situation, and ask if they can bring a social worker.
If you'd prefer that your landlord take steps to remove the squatter, show him this article and suggest that he take the steps I've outlined.