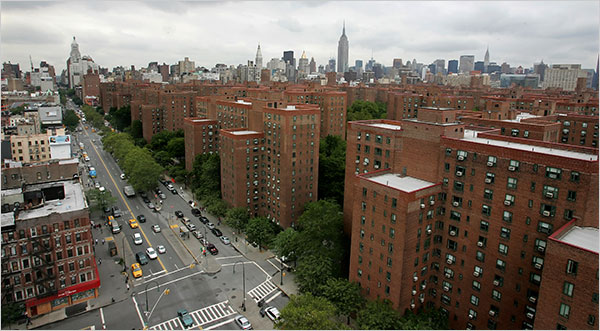 Tenants, Thugs and CDOs
Tenants, Thugs, CDOs
San Francisco Magazine's "War of Values" is certainly a local tale of unmitigated greed and the criminal enterprise of one family to corner the residential real estate market in San Francisco, buying large rent controlled buildings and ousting long-term tenants by any means possible. When my good friend Danelle Morton began to work on this article more than a year and half ago, the story seemed to be just that.  But as she dug deeper, Danelle's investigation led her to the shady world of collateralized debt obligations, derivatives and the real villains without whose free-wheeled lending, the Lembis' crimes against tenants could not have been financed.
"It's a cascade of connections that's almost impossible to believe: that the agony of one old lady on Leavenworth Street, who couldn't get downstairs for three days because her elevator had been shut off, could have anything to do with the annual bonus of a banker in Switzerland. Or that a sudden edict forbidding tenants in a building near Union Square from using the lobby for Friday-night happy hour might be even remotely connected to the same Wall Street financial instruments that have pushed the world economy to the brink."
Landlord thugs.
It turns out that this just isn't a San Francisco problem. As Robin Shulman reports in The Washington Post, November 23, "A new wave of foreclosures stands to hurt people who may have never taken out a mortgage: renters. In cities such as New York, Chicago and Los Angeles, where many investors are carrying upside-down mortgages on large rental buildings, some tenants are watching their homes fall apart along with the financing."
Or as Amanda Fung writes in Crain's New York Business, December 7, "Nearly 10%, or 100,000 units, of the city's affordable housing stock were overleveraged by predatory equity investors, and several of them are heading toward financial default, according to a recent report from a housing advocacy group." The report, "Predatory Equity: Evolution of a Crisis," by The Association for Neighborhood and Housing Development," should be read as a companion piece to Ms. Morton's article. It's the same story in New York. Investors "used tenant harassment as a business model to drive out rent-regulated tenants on a wholesale level by evicting and replacing them with market-rate renters."
Banker thugs.
Credit Suisse was promoting the Lembis' relocation practices as a savvy business plan while simultaneously misleading their own investors.
A driving force behind the financing in of some of the buildings analyzed in the ANHD Report is Credit Suisse Bank, a major financial backer of subprime lenders according to The Center for Public Integrity in its article, "Who's Behind the Financial Meltdown?" Ms. Morton uncovered a prospectus prepared by Credit Suisse, dated Winter 2008, to offer the best piece of a collateralized debt obligation to investors. "CitiApartments has a successful track record of relocating units upon acquisition. Since the program's inception, Lembi has relocated over 2,500 units. In 2007 the Lembis relocated 899 units. In conjunction with an aggressive relocation ramp-up, Borrower recently added a fourth team, bringing the number of employees dedicated to this effort to 18." Credit Suisse never mentions the lawsuit filed by the San Francisco City Attorney for unfair business practices. Clearly, Credit Suisse was promoting the Lembis' relocation practices as a savvy business plan while simultaneously misleading their own investors.
David Jones, President and CEO, Community Service Society of New York, in his Huffington Post article, "Predatory Equity," writes about the Stuyvesant Town mess and tepidly concludes, "The individual real estate firms and banks that set up these deals can't be allowed to walk away, particularly when even cursory due diligence on many if not most of these deals indicate they weren't sustainable even in good times. They have to be examined legally, by investors, regulators, and legislators, to make sure that tenants are protected, prosecutions are brought if necessary, and taxpayers aren't left holding the bag for the excessive greed of speculators."
If this is a war of values, it is a war that has not yet begun. A cadre of unscrupulous landlords and financial terrorists claiming they're doing God's work—those with no values—have declared war. But those charged with the legal and moral responsibility to prosecute and imprison these crooks have capitulated. It is no accident that the financial meltdown has been blamed on homeowners rather than the rich landlords, real estate speculators like Tishman Speyer
and Walter Lembi and banks like Chase and Credit Suisse who only borrow from and lend to one another. Then when they can't sell their toxic shit to unsuspecting investors, they turn to us for a bailout and blame us for their messes.
Bailout is just another name for a get-out-of-jail-free card. The banks and speculators are out on bail alright, released on their own recognizance with a little spending money to continue business as usual. To read that President Obama has to suck up and implore banks to loan money that they get for free from us (taxpayers) back to us is to understand that hope is powerless.